At Tucker/Hall, we have a unique approach to Online Reputation Management (ORM) that has achieved positive results for our clients. For us, ORM involves combining strategic public relations with modern digital tools to positively affect the way an entity is perceived online. Private corporations, public agencies, non-profits, and individual citizens are all subject to the internet's defining gaze. What people see when they Google you can mean the difference between a sale and lost business; a job and a rejection; a bumper fundraising campaign and a dud; and a successful referendum and a failed one.
Our goal is to
Help you connect the online users with accurate, positive information about your brand
Make sure negative and misleading information do not foreshadow the accurate information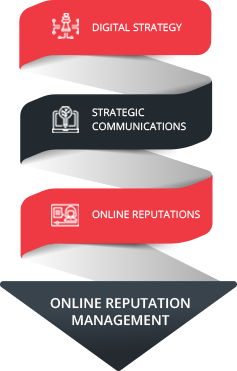 According to Moz Research
More than 90 percent of online users don't go beyond the first page of search
01
Web Development
We develop authoritative websites to take better control of your brand's image in search engines. We will push your message to the first page of the search engine, above other content

02
Content Creation
Creating quality content is a key pillar of our strategy. With 30-years of communications experience, our team will create powerful content catered to you brand

03
Technical SEO
We will investigate and enhance your existing online assets to make sure they are built for ranking

04
Multichannel
Our approach will cover all of your online touchpoints to assure maximum impact. Along with building robust online assets, we will help you engage on Social, enhance your business listing and your local presence

05
Monitoring
We will track your reputation online to assure fast and effective action, and to provide you with transparent insights

Tucker/Hall leverages nearly 30 years of high-level public relations and public affairs success, the latest technology, and elite client service to get the measurable results you need. Search engine optimization alone isn't the ultimate ORM tool; it must be combined with a comprehensive strategy.
It starts with deeply understanding the client's situation and developing a digital communications action plan to address their unique issue. We develop dynamic, useful content, and place it where it will be seen and trusted by not only search engines but also by online readers. Over time, we achieve trust and authority, mitigating harm and renewing public confidence.
Throughout the process, Tucker/Hall will work with you, leading you through the process and collaborating to develop the right solutions. From strategy to tactics to measurable results, your online reputation can depend on Tucker/Hall.